Looking for the best air conditioner for your Toronto home?
Reliance Home Comfort® is a trusted provider of air conditioner installation, air conditioner maintenance, and AC repair services in Toronto, North York and across the whole GTA.

Our local, friendly, experienced Toronto technicians and dedicated team know that nothing adds more to your home comfort than a cool, air-conditioned space on a hot summer day. That's why we're committed to providing you with trusted advice and the best service to ensure that your Toronto AC unit runs efficiently when and how you need it.
Keep your home cool and comfortable this summer. Trust our expertise and more than 60 years of experience in Toronto to help you choose the best air conditioning system for your home.
We're here to help. Book your FREE in-home consultation today. For your convenience, We have two locations that serve Toronto: Downtown Toronto in St. Lawrence Market and North York for your convenience.
Should you rent or buy your air conditioner?
Wondering whether you should rent or buy an air conditioner? Here are some key factors to consider:
One low, monthly rental payment can make it easier to manage your budget
While you rent, Reliance® will service your air conditioner at no cost
Buying involves a higher, upfront cost but can increase the value of your home
Still not sure whether to rent or buy? Learn more
Choosing the right Air Conditioning System in Toronto
When considering a new AC system for your home it is important to remember that not all air conditioners are created equal. No matter how big or small your space, there's an air conditioning system that's just right for you. Choosing the right AC will make it run more efficiently, keep you cool for longer and keep your budget in check.
Before you choose an AC unit, here are some important things to consider:
House Size and Location:
What direction is the house facing? The size of the space and the amount of sun you receive during the day are key when determining the unit size and power.
Insulation:
The insulation make-up of your home's walls, ceilings, and windows will influence the size and power of the AC unit that you will need.
Energy Efficiency:
The best way to measure the energy efficiency of your Toronto AC system is to check its seasonal energy efficiency ratio (SEER). The higher the SEER rating, the more energy you could save and the lower your operating costs could be.
There are many things to consider before buying (or renting) the right air conditioning system for your Toronto home, and we are here to help you choose the best option.
Looking for a Heat Pump in Toronto?
An electric heat pump is an air conditioner with the bonus that it can run in reverse and bring heat into your home on those cold spring and winter days, saving you from having to turn your furnace on until it's frigid outside. It's also an excellent choice for the environment and could help you reduce your carbon footprint! Be sure to check your local area for Government Rebates.
AC Brands we carry
Whether you're looking for an air conditioning unit or a combined heating and cooling system in Toronto, we work with some of the top AC brands in the industry:
SmartAir™
Amana®
Carrier®
Goodman®
Trane®
Why choose Reliance?
We have more than 50 years of experience in Toronto, and we're here for you. Whether you need a regular check-up or emergency assistance, count on our 24/7 Toronto air conditioning service – call us or book online now.
Professional Toronto Air Conditioner Installation
Our Toronto technicians are trained experts who work with our AC brands and models. Their expertise and top-notch service are a part of our commitment to your comfort.
Learn more about our other services:
Why Choose Reliance?
Many of our locations have been awarded Best of HomeStars 2023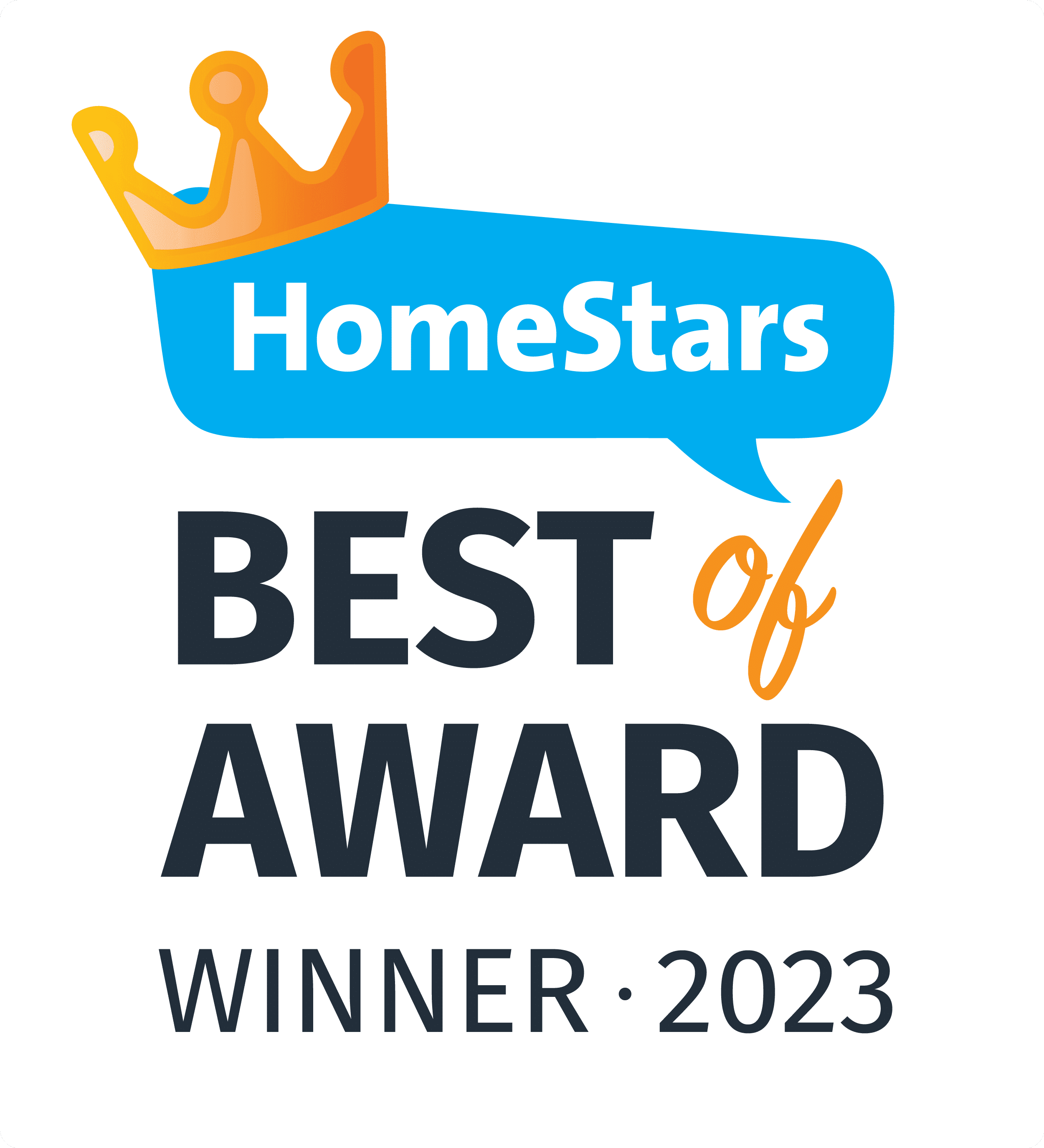 Frequently Asked Questions
SEER stands for Seasonal Energy Efficiency Ratio and measures air conditioners cooling efficiency. Today's air conditioner's SEER ranges from 13-21; higher SEER ratings mean greater energy efficiency.
There are great benefits to long-term air conditioner rental or choosing to buy your air conditioning unit, but it comes down to what's best for you. Get more insights here.
Regular AC maintenance will keep your air conditioner running smoothly and reduces the risk of any serious problems in the long term. Contact our friendly experts for an AC check-up, book online.